The home theater sofa is the home theater seat, and many people think that there is nothing special about it. Isn't it just an ordinary living room sofa, or is it an upgraded version? But in fact, it is very different from ordinary sofas, especially with the development of home theater technology. The difference is becoming more and more obvious. In addition to the comfort of the sofa, the cinema sofa also adds a lot of functional things.
Home theater sofa with more comfortable seat function
Ordinary living room sofas are more about the design of appearance. However, when watching movies, we usually maintain a sitting position for a long time. It will inevitably lead to physical fatigue, and comfort becomes particularly important. Home theater sofas are with tailor-made comfortable details for cinema seats. In terms of sofa softness, material, and weight, the rigorous design of strength, backrest and sitting depth can fully relax the head, neck, waist, knees and feet. It provides perfect support for the whole body and real rest of the human body. Generally speaking, the internal filling material, the softness of the surface material, the height of the backrest,  for different people are all issues we need to consider.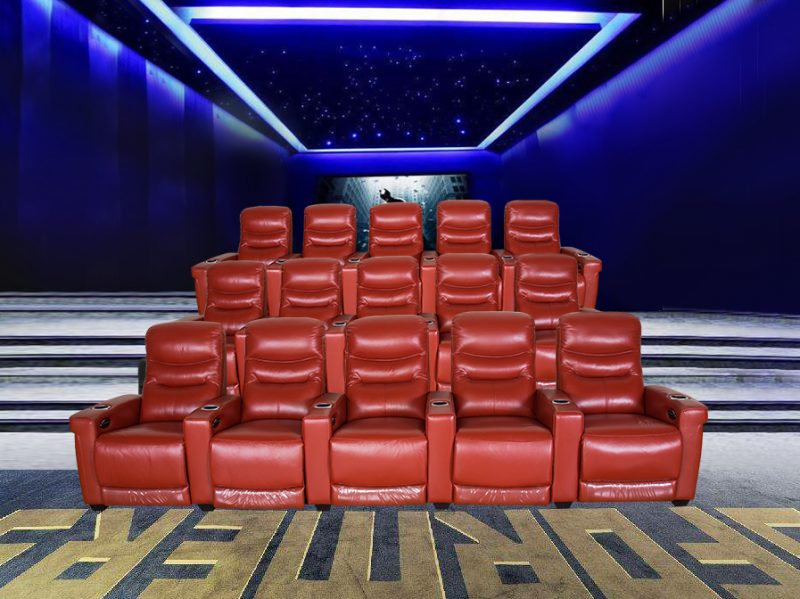 Home theater sofa with more humanized electric function
What should I do if I feel a bit sore on my hands and feet when I watch a movie? What if I want to drink without a place to put the bottle? What to do if I want to turn on the lights so as not to affect the visual effect of my family? Don't worry. The back of the chair is easy to lie down. And you can press the switch to adjust, so that you can enjoy the same comfort in different sitting positions; nice lights,  cup holders, USB charging function and a small computer table board  can be adjusted at any angle. Practicality is eclectic and can be completed with the touch of a finger, without removing the eye from the screen. The unique electric system of the home theater sofa is also the reason for its "nobility". In addition to giving people a visual three-dimensional real experience, it also increases the sensory experience of the seat. The realization of this experience is inseparable from the electric system of the home theater sofa.